Ritmo Dance Festival Berlin - Allemagne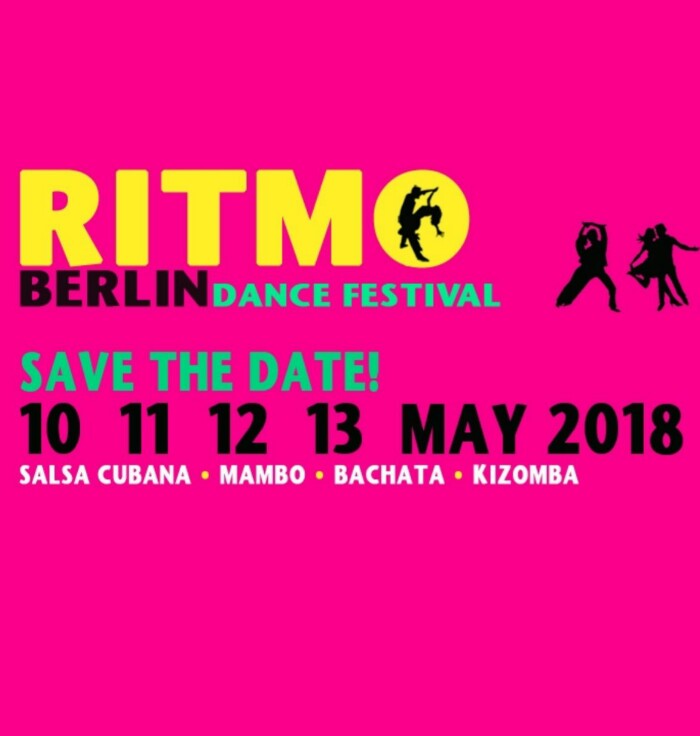 The brandnew dance festival "Ritmo Berlin" starts 6 weeks after Easter on Ascension Day (because its a bank holiday in Germany, France & Netherlands). ;-)
Save the date: 10.-13. May 2018!
70 fiery dance workshops inspire fans for a weekend full of Salsa Cubana, Mambo, Bachata & Kizomba.

We expect again an international program consisting of various artists, DJ's from and many dancers from all over the world together with our resident-artists and regular guests and local dancers.

............... confirmed artists: Salsa Cubana
Danger & Yunaisy (Barcelona)
Orliandys (Barcelona)
Osmani Segura (Karlsruhe)
Fismo & Mikaela (Berlin)
Timo & Julia (Berlin)
DJ Miami (Hamburg)
El Puma DJ (Berlin)
DJ Omarito (Berlin)

............... confirmed artists: Salsa NY & LA
Leon Rose (Paris)
Mouaze (Paris)
Supermario (London)
Max Tripicchio & Camilla (Italy)
Soheil & Katya (Berlin)
DJ Tuli (London)
DJ David Muñoz (Munich)
DJ Flori (Berlin)
DJ Markus Baitis (Berlin)
DJ Andrew (Berlin)

............... confirmed artists: Bachata
Dario & Sara (Sevilla)
Jorge Elizondo (Texas)
Kiko & Christina (Basel)
Alejandro & Francia (Berlin)
DJ Jimmy Goo (Berlin)
DJ Papa Peter (Berlin)
DJ Fidel (Berlin)

............... confirmed artists: Kizomba
Joao & Giedre (Frankfurt)
Jacinto Teca & Lucie Zenata (Prague)
Johannes & Ashley (Berlin)
El Cruz & Nadège (Luxemburg)
JP & Stephy (Paris)
DJ Ash (Bordeaux)
DJ Valet (Le Havre)
DJ Fabinho FM (Berlin)
DJ Fenómeno (Berlin)
DJ Edgar (Berlin)

Check flights to Berlin at www.skyscanner.com!
Expand your stay for one week to join and enjoy the Carnival of Culture in Berlin!

For special group prices contact: Cette adresse e-mail est protégée contre les robots spammeurs. Vous devez activer le JavaScript pour la visualiser.

www.ritmo-berlin.com